<!#SiteWiz#>
How To Pick Up Girls - Reader Testimonials
After you have read "How To Pick Up Girls" please email comments@how-to-pick-up-girls.com to let us know how you have got on using the information in the guide.
"I messed about for a while trying to get Microsoft Reader working but it was worth the wait. That card technique is absolutely fantastic! I had never heard of it, and now my mates all think I thought it up myself! I have had three girls phone me from Saturday night. Brilliant book." R.H. Birmingham
"...What a brilliant idea! I've never been to confident with women, but now I've got them phoning me up all week. When I read about that card idea, I thought it would work, but I have had a better response than I ever thought possible..." M. K. Albany
"I don't know if Mark Mason came up with that card idea himself or what, but it works, and now I've got to turn girls down!!!! HA! MAGIC!" P. J. L.A.
"...Reading your book has made me much more aware of "the game" I now smile when I see people making an obvious mess of it." Paul Sydney
"STOP SELLING YOUR BOOK! IF EVERYONE FINDS OUT ABOUT IT THEN MY MATES WON'T THINK I AM A GOD ANYMORE..." anon
"Most of it is common sense I suppose but some of it is great. Its certainly made me think differently and I am looking forward to trying out the various methods." T. E. Ashford
"Your book has given me the confidence to chat to women and know what to say and how to say it. I am finally getting confident for the first time in my life. Thank you". J. Carter. WY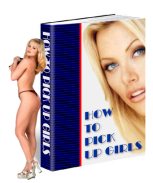 ORDER NOW in total confidence with our risk free money back guarantee!
The best and most famous seduction manual in the world.